[VIRTUAL] Global life-science pitch + mentorship event
2022.12.21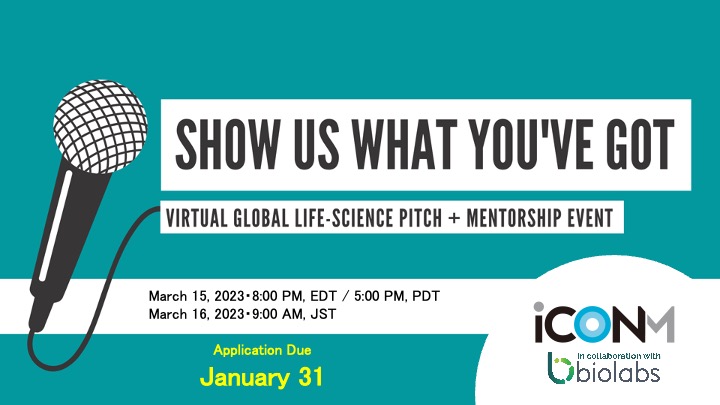 iCONM in collaboration with BioLabs will hold its first global life-science pitch + mentorship event on March 16 (Japan) / March 15 (US), 2023. This pitch event is an opportunity for selected life science startups to pitch their businesses to an international audience of investors, other potential partners, and make connections to the global biotech community.  All pitches will be evaluated by experienced life science investors and industry professionals.
Pre-clinical, clinical, early–stage and seed stage life science entrepreneurs are encouraged to APPLY TODAY!  Do not miss this opportunity to hone your pitch and establish connections with the biotech community in Japan, the US, and beyond! 
Deadline for application is January 31, 2023 at 11:59PM, JST.   
Overview: Global life-science pitch + mentorship event 
Date: March 16, 2023 (Thursday) 9AM-11AM, JST

 
[US] March 15, 2023 (Wednesday) 8PM-10PM (EDT) / 5PM-7PM (PDT

)

 

Main contents: Pitch+QA, Virtual networking sessions

Format: Online

Language: English
Participation: Free of charge

 
For entrepreneurs:

About the Organizers: 
iCONM in collaboration with BioLabs is a life science incubator in Kawasaki, Japan. We offer innovative incubator services for life science start-ups. Our facility has more than 370 shared equipment, enabling start-ups to focus on and expand their research from chemical synthesis to animal experiments. Moreover, through a collaboration with BioLabs, our Team will support building-networks and empower bioinnovators to grow quickly. 
BioLabs is the premier operator of co-working lab facilities for life science entrepreneurs worldwide.  Headquartered in Cambridge, MA, USA; BioLabs  currently has 14 locations worldwide.  Through a collaboration with Kawasaki-based Innovation Center for NanoMedicine (iCONM), BioLabs is expanding to Japan. 
For more information
Please be free to contact us.
Email: iconm-i@kawasaki-net.ne.jp 
Akie Kaneko
Lab Manager, iCONM in collaboration with BioLabs